Exclusive Importer Announces New, Modern Wine Brands from Spain & Italy - One Vine Wines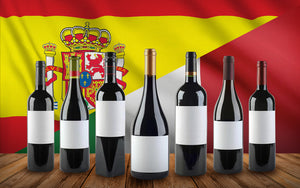 One Vine Wines announces two new exclusive import partnerships with La Bollina from Italy and 10 International from the United Kingdom to import into the U.S. a series of new, modern wines.
For more information, visit:  https://onevinewines.com/
These delicious red and white wines with compelling custom labels are now available across the U.S. exclusively from One Vine Wines.
"We recently launched a new exclusive line of imported wines partnering with wineries from Spain and Italy and a U.K. sales and marketing company to bring these wines to the U.S. for the first time," says owner Greg Martellotto. "Given the changing nature of the global wine industry, now is the perfect time to introduce these value brands to support American retailers and European producers."
Delivering quality wines such as Barbera, Dolcetto, Pinot Grigio, Sangiovese, and Tempranillo, restaurants and retail wine shops can offer both quality and value to consumers.
Wines include:
Faliero Barbera and Dolcetto from Piemonte, Italy

Corta Balda Rosso and Sangiovese from Puglia, Italy

Villa Gracchio Chardonnay, Pinot Grigio, and Merlot from Italy

Tempranillo based wines from Navarra in Spain: Pleno Tempranillo, Palomeras Special Red Wine, Morador Tinto, Señorío de Ayanz Tinto
For the Italian wines, the minimum order quantity is six pallets of 60 cases per pallet for each SKU. For the Spanish wines, the minimum order quantity is five pallets of 60 cases for each wine. 
With their deep industry experience and expert team of winemakers, sommeliers, and other trade professionals, One Vine Wines is a trusted partner in the industry. They have the reach, working at all levels of the trade, to make the most profitable deals for their clients. Their efficient online business model cuts out the middlemen, thereby reducing costs.
ABOUT One Vine Wines
One Vine Wines, founded in 2005, is a nontraditional importer and distributor of fine wines. An expert team tastes thousands of wines a year and chooses only wines of outstanding quality and value. They offer unique and superior wines from award-winning winemakers and the best vineyards.
With a direct email campaign and an online shop, One Vine Wines eliminated many inefficiencies in the wine business.  One Vine Wines paves a better way to conduct business in the wholesale wine trade.