OVW Believes Wine Drinkers Have Been Lost in the Wholesale Wine Trade - One Vine Wines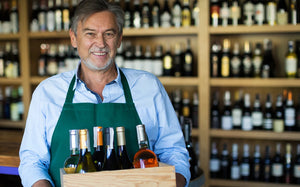 Consolidation in wholesale wine distribution has led to consumer neglect.
Unabated Wine Industry Consolidation
As Tom Wark notes: "It has long been a near unbreakable tenet and motivation of state alcohol regulation that no single company be allowed to control too great a portion of the market."
In the wine trade, consolidation has been accelerating for the past few decades. Mergers have occurred at each level of the three-tier system: suppliers, wholesalers and retailers. 
Recently, the #2 and #4 wholesale wine and spirits distributors announced a merger. If approved, three companies will hold 60.9% of the market for wine and spirits distribution. These companies cover most of the country. The top 10 had 74% market share as of 2016.
| | | |
| --- | --- | --- |
| | | % Market Share as of 2017 (projected) |
| 1. | Southern Glazers Wine and Spirits | 31.8 |
| 2. | Republic National | 13.6 |
| 3. | Breakthru Beverage | 10.0 |
| 4. | Young's Market | 5.5 |
|   | Total | 60.9% |
Market share of the top five wholesalers grew more than 170% from 1990 to 2017. Much of this was due to supplier consolidation. Companies like Diageo, Constellation, Brown Forman, and Pernod Ricard dominate the supplier tier, putting pressure on wholesalers. 
Consolidation occurred on the retail side too. Grocery store consolidation includes Albertson's acquisition of Safeway.  Kroger acquired Harris Teeter. Alcohol superstores and retailers like Total Wine and BevMo have rapidly expanded their footprints into new markets. 
Large companies buying smaller companies limits route-to-market options and competition. Battling the big guys seems a futile effort along the entire supply chain. 
Implications for Wine Drinkers
Today's wine landscape features the same mass-produced wines that wine drinkers are rejecting. This is the result of ever-larger distributors pushing the portfolios of ever-larger suppliers. 
The number of distributors today is less than half what it was in 1995. During the same time, the number of wineries grew four times to 13,513. Even in the face of more available wine, fewer wholesalers means more market control and less consumer choice.
The goals of large wholesalers are rationalization of the supply chain, cost cutting and increased profits. 
The same happened in the beer industry where giant companies now dominate. No wonder beer drinkers turned to craft and local, small breweries for quality and choice.
Large distribution companies look for the following when adding a wine to their portfolio:
a unique brand with a track record and predictable sales

a well-funded business plan 

professional management

an understanding of the marketplace

a strong brand strategy

a few good accounts 
Given these guidelines, wineries that don't have scale or brand recognition are pushed out and wine drinkers can't enjoy these wines.
Acting as gatekeepers, the big guys limit consumer choice while pursuing premiumization resulting in higher prices for consumers. 
Because the wholesale liquor industry doesn't interact with consumers, there is no pressure to adapt to consumer demands. 
It's no wonder that consumers find wine to be boring and choose to drink cocktails instead. Those who drink wine, choose to drink at home instead of paying ever-higher prices for the same boring wines at their local restaurant.
Alternatives such as tasting rooms, wine clubs and direct-to-consumer online businesses offer consumers some choice.  Wine drinkers can't visit every tasting room or join every wine club to find the wines they want. Some can't take advantage of DTC yet due to regulatory issues. 
Options for Better Serving Wine Drinkers
Wine drinkers are fed up with the limited wines available. Without changes, they will eventually abandon the category altogether.
It's clear that there is a need for alternative distribution models. The need for new blood is especially acute in niche areas that larger companies won't take on and that wine drinkers want.
Opportunities exist for new distribution models such as:
consolidation of smaller wine distributors to build strength

development of wine distribution networks to compete more effectively

startup of online wine distribution companies taking advantage of technology
By building relationships with retailers and other buyers and understanding consumer desires, smaller wholesalers can bring to market strong, unique portfolios of wines. 
But wineries must build their own brand equity to stand out from their competitors and connect with wine drinkers. A top-scoring wine is not enough.
Consumers demand unique brands, authentic wines with a personal touch and interesting stories. It only takes a few new players to bring these alternative types of wines to the attention of wine drinkers.
One Vine Wines is the Alternative to Corporate Wholesale Wine Distribution
At One Vine Wines, we have an outsider point of view as a nontraditional wine importer and distributor. Our vine to market approach develops solutions to the many challenges and problems in the industry.
We are laser-focused on the consumer. Our sommeliers and wine experts taste more than 5,000 wines annually. This allows us to offer a diversified portfolio of wines that are rare or not available elsewhere.
Our valuable portfolio includes only wines of quality and value in fast growing categories at more competitive prices. And our customers make more money because of our low overhead and efficient business model.
Valuing transparency, we develop strong relationships with customers who want to deliver something new to their clients.
One Vine Wines believes in a better way to conduct business in the wholesale wine trade.