Argentina Wine Delivers Best Value for Top Quality Cabernet Sauvignon - One Vine Wines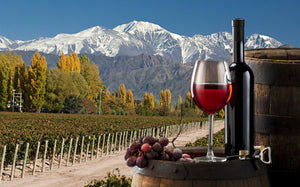 Argentina wine's stellar new vintage should be at the top of your list. The exceptional quality and price/value relationship have never been better. 
We take a look at the remarkable 2019 vintage and offer some insight into the best wines to try. 
Argentina Wine Latest News
Greg Martellotto, owner of One Vine Wines, offered some insights about Argentina wine in an article he wrote in July 2018. With strong vintages in 2017 and 2018, a weak peso and a pro-business president, Mauricio Macri, the outlook for the wine industry was positive. 
Roll-forward to 2019, the new harvest may be one of the best, with cooler temperatures, very dry conditions, and no weather events. The wines are well-structured, fresh, and balanced with noticeable acidity. These wines will age nicely.
"The 2019 harvest was exceptional, with ideal climatic characteristics for the production of quality wines that make it the best of the last decades, agreed winemakers from all wine regions of the country," stated Mendoza Post. 
But August 2019 brought surprising results from a presidential primary election. The Peronist candidates Fernandez-Kirchner (yes, Cristina makes a come-back) took 47.7% while current President Macri took only 32.1%. Such goes the topsy-turvy politics of Latin America. 
The practical impact was the value of the Peso vs. the USD falling dramatically.
What does this mean for wine buyers in 2019? Let's take a look.
Argentina Wine Landscape Takeaway
"Winemakers agreed that the 2019 harvest in Argentina was the best of the last 25 years. This conclusion was reached during the second edition of the UMAMI Fair, which was held last week in Buenos Aires and was visited by more than 1,500 people."
After successful vintages in 2017 and, especially 2018, Laura Catena says about 2019:
"A warm April at the beginning of the autumn guaranteed a healthy harvest of our cool-climate Malbec and Cabernet Sauvignon from the highest elevation areas. A high skin/juice ratio that resulted from the small berry size made for highly concentrated wines with great color. Acidities ran higher than usual due to the cool climate. We expect the 2019 wines to be approachable when young, but also able to age."
Therefore, plenty of wine is in the pipeline from three strong vintages.
Given the weakness in the economy, especially over the last year, and the primary election results, sales of wine in the country have softened, and wine stocks have increased.
What good news for U.S. importers. The U.S. represents about 50% of Argentina's export market. "It will definitely help exports," said Marcelo Waldheim, president of Mendoza-based Casarena, told decanter.com. Increased exports "will help the wineries cover inflation, and stay profitable and competitive, without having to increase prices.
Economic weakness and higher inflation lead to higher production costs. "Most wineries exporting at less than $30-a-case are likely losing money, Rabobank analysts said." At the lower end of the market, some producers may shake-out.
We may also see some wines made without expensive oak barrels. Because imported barrels are priced in USD, they become very expensive under devalued local currency. Producers that can't increase prices may shift some production methods to reduce costs.
Argentina Wine's Mighty Malbec vs Captivating Cabernet Sauvignon
While Malbec continues to lead the way in Argentina, more and different grape varieties are appearing throughout the country. However, Mendoza's worth as an outstanding Cabernet Sauvignon producing region is often overlooked.
The hot and dry climate here is similar to Northern California, where Cabernet Sauvignon reigns. The grape ripens beautifully here, especially at higher elevations where the heat is moderated. At these higher elevations, the wines retain better acidity for more balance and freshness. The high desert conditions are perfect for wines to age well.
In terms of style, Cabernet Sauvignon from Mendoza lies between the more austere styles of Bordeaux and the more robust styles of Napa Valley. Cabernet Sauvignon in Mendoza is aromatic, savory and juicy.
The Mendoza Cabernet Sauvignons are much more affordable than either Napa Valley or Bordeaux. There are some pricier cult-level wines, but this is relative. Given this run of strong vintages, the price/quality equation beats anywhere else.
Says Paul Hobbs, "With prices getting increasingly expensive for Cabernet [from its most famous sources, be they Napa, Bordeaux or Tuscany], people will start to look for another region – and I believe Mendoza is that region, because it can supply high quality Cabernet at affordable prices."
With ongoing climate change, escalating heat in Northern California may be another issue.
Argentina Wine Producers to Consider
The number of quality wine producers in Mendoza continues to grow, and word is getting around about the best. Look for producers from Lujan de Cuyo, including Perdriel and Agrelo. From the Uco Valley, sub-regions Gualtallary, Tupungato, Tunuyan and Vista Flores all produce great Cabernet Sauvignon. Further north of Mendoza, Salta delivers some stunning Cabernet Sauvignon.
Look for the following producers or other site-specific Cabernet Sauvignon from Argentina:
Antucura Pukara - Vista Flores
Atamisque - Tupungato
Bramare Marchiori - Perdriel
Carmello Patti - Lujan de Cuyo
Catena (Zapata) Appellation - Agrelo
Domingo Molina - Salta
Finca Ambrosia - Gualtallary
Laborum - Salta
La Madrid - Agrelo
Piatelli - Lujan de Cuyo
Rutini - Maipu
Salentein - Tunuyan
Siesta - Vista Flores
Sophenia - Gualtallary
Vina Cobos - Lujan de Cuyo

One Vine Wines is Your Source for Argentina Wine's new Cabernet Sauvignon vintage
Call One Vine Wines to place your order for Argentine Cabernet Sauvignon!
Because we are laser-focused on the consumer, our sommeliers and wine experts taste more than 5000 wines annually. This allows us to offer a superior and diversified portfolio of wines that are rare or not available elsewhere.
We only offer wines of quality and value in fast growing categories at more competitive prices. Our low overhead and efficient business model allow our customers to make more money.
One Vine Wines believes in a better way to conduct business in the wholesale wine trade. Contact us today!